A week at Santarem Polytechnic University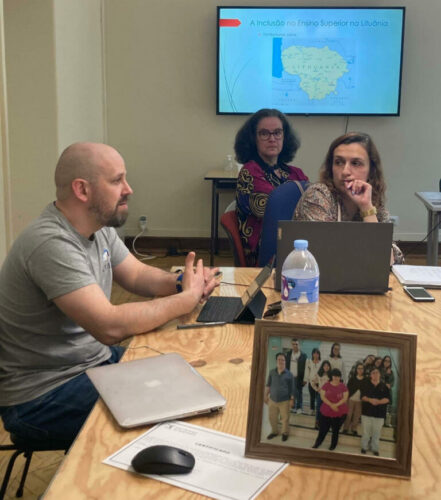 Ramūnas Jukna, a lecturer and psychologist at Panevėžys College, spent a week at Santarem Polytechnic University (Portugal). He has taught future social pedagogues studying at undergraduate and postgraduate level. During the journey the lecturer learned about the university's efforts to include students with special needs in the life of university community and, later, in society at large. The lectures focused on the problems and challenges of inclusion of persons and families with disabilities. The discussions were aimed at comparing the experiences of the two countries and finding the best solutions for the future. It is pleasing that the community of Santarem Polytechnic University is open to cooperation that enriches both sides of the dialogue.
Lecturer Ramūnas Jukna interacts with colleagues who are concerned that students with special needs studying at the Polytechnic University successfully integrate into the university community. The framed photo shows a group of special needs students who have successfully integrated into the labour market.
A lecturer from Panevėžys College stands in front of a pre-school in Santarem, which is set up by NGO and works closely with the Portuguese government.
The Polytechnic University is housed in a former monastery. Young people come to this educational institution not only from their city and region, but even from the capital Lisbon.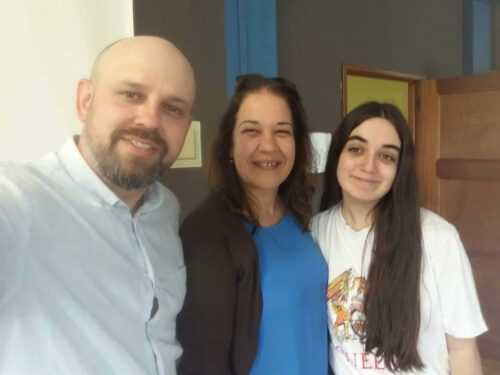 Lecturer Ramūnas Jukna from Panevėžys spent two afternoons with psychology lecturer Sonia Galinha, teaching undergraduate students (Ramūnas, Sonia and a Portuguese student in the photo).
Educational space for student lectures.
Master students discussed in group the questions given by lecturer Jukna after the lecture.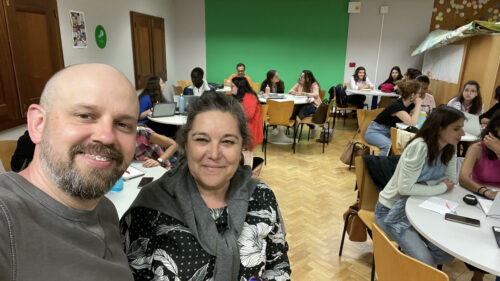 The problems students face are very similar to those in Lithuania: lack of time, fatigue, challenges of combining work and studies, delays in finishing their final papers, psychological challenges. Lecturer Perpetua Silva talked about this.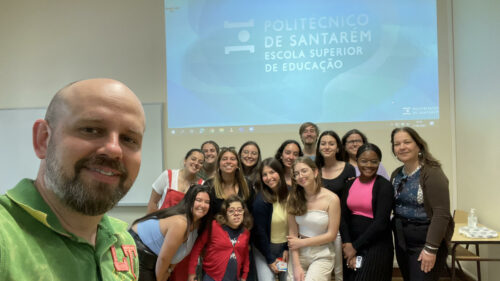 University aims to enable all people to pursue higher education.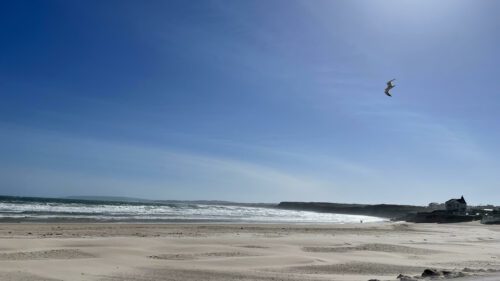 The Atlantic coast of Portugal.