Beauty Therapy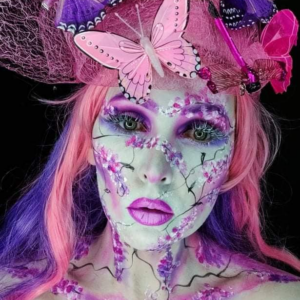 Study mode and duration: full-time (3 years).
Study programme is carried out: Panevėžio kolegija/State Higher Education Institution, Faculty of Biomedical Sciences
Degree and professional qualification: professional bachelor of health sciences.
Volume of study programme in credits: 180 ECTS credits.
Why choose this programme: study programme is to prepare specialists of beauty therapy. Graduates will be able to work as beauticians in the enterprises, which provide beauty services, SPA and wellness centers, as face-painters in film and photo studios, establish individual enterprises, work as consultants in beauty shops and cosmetology business enterprises.
Subjects
Study modules (subjects)*
1 course
2 course
3 course
General modules (subjects) of college studies
Module 1. Bioethics (Professional ethics; Basics of health law and management; Basics of scientific style)
Modules (subjects) of study field
Module 2. Human Anatomy (Anatomy, physiology and general pathology; Face anatomy, physiology and general pathology; Cytology and genetics)
Module 5. Professional communication (Communication and health psychology)
Methodology of applied scientific research
Module 3. General clinical subjects (Basics of biochemistry and pharmacology; Dermatological and infectious diseases)
Module 8. Massage (Facial massage; Body massage)
Module 9. Beauty service business (Wellness services management; Basics of entrepreneurship; SPA philosophy)
Microbiology and infection control
Module No 7. Decorative cosmetics procedures (Make-up techniques)
Module 10. Cosmetology apparatus and equipment
First medical aid
Module 8. Cosmetic procedures
Information technologies
Hand and foot care procedures
Module 4. General cosmetology* General cosmetology and cosmetic diagnostics; Cosmetic chemistry and material science)
Specializations / Alternative modules (subjects)
A1 Professional foreign language (English, Russian, German) (Module 5)
A3 Healthy lifestyle / Physical activity
A2 Image building / Appearance style and design (Module 7)
Practices
Cosmetic products consulting practice (Module 4)
Module 11. Face and body care procedures practice
Final practice and supervision**
Electives subjects set by the College
PD1
PD2
Final thesis**
* Practice is integrated into the content of the module
** Final module
PD1, PD2 – optional modules (subjects) foreseen by the order of the Director.
A1, A2, A3 – alternatively chosen modules (subjects) foreseen by the study field programme committee.
* This study plan applies from 2023.
More
Attention to practice: practical skills are being improved by students during practice in a real environment in beauty cabinets, beauty salons, wellness centers. Partners: beauty salon "BELLEZZA", beauty home "Tropiku saule", PLC "Kosmelita",  wellness and SPA center JSC "VIA UNICA", beauty studio "Mary Kay", individuals cosmetic cabinets and salons (Ievos Grozio Studija, " Bellucci", " Afrodite", "Laima" and etc.).
Opportunities for international studies: students of the programme have the opportunity to study according to the ERASMUS student exchange program.
Career opportunities: graduates may pursue study results if they wish to study at university according to the study programmes of the first cycle. After the bridging courses or having accomplished the requirements of other higher educational institution, students have access to continue studies in the second study cycle with the view to attain master's degree.
Other information: after completing studies, graduates will be able to provide beauty and wellness services, will not give the right to provide health care services.
The aim of the programme Beauty Therapy – to prepare a beauty therapy specialist who is able to work independently and / or in a team with professionals from other fields, to provide cosmetological services in the field of beauty, health and wellness in a holistic way, to organize a cosmetology business and to develop science-based practice in professional activities.
Learning outcomes:
Students know national and international health care policy, legislation and other documents regulating the practice of a beauty therapist.
They are able to apply biomedical knowledge in the practice of a beauty therapist.
They are able to perform scientific applied research, interpret, analyze, summarize and present the results.
They are able to apply science and research evidence-based practice to solve problems in the field of beauty therapy and develop innovative professional activities.
They are able to apply work safety and hygiene requirements, know legal principles of beauty and wellness services regulation.
They are able to find out and assess a client's needs choosing purposely the assessment techniques and equipment.
They are able to make a short and long-term plan of cosmetic procedures, choose cosmetics and equipment and perform cosmetic procedures according to the client's needs.
They are able to work in team with professionals from other fields, carry out educational activity and integrate scientifically based research and practice in his/her professional activity.
They are able to cooperate and communicate in Lithuanian and foreign languages with clients of different age, gender, social strata and special needs, in accordance with the principles of professional ethics.
They are able to generate innovative ideas in his/her professional life, to adapt to new situations and to enhance the image of the beauty therapist profession.
They are able to plan, organize and run beauty services business.
They are able to use modern information technologies in the practice of beauty therapist and take care of strengthening his/her professional self-awareness.