Electromechanics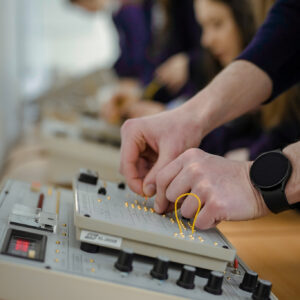 Study mode and duration time: full-time (3 years)
Study programme is carried out: Panevėžio kolegija/State Higher Education Institution, Faculty of Technology Sciences
Degree and professional qualification:  Engineering Sciences
Volume of the study programme in credits: 180 ECTS credit
Objective(s) of the study programme: to equip professionals of information systems being able to analyse the information needs of enterprises and organizations, to plan, design, program, implement, update and maintain information systems.
The aim of Electromechanical study programme is preparation of mechanical engineers who will be able to design various technical products using computer aided design programmes, select process plans for their manufacturing, engineers who will have knowledge about structure and operating principles of various technological equipment and will be able to maintain this equipment.
Program has been awarded the "Investor's Spotlight" quality mark!
Subjects
1 Course
2 Course
3 Course
General Subjects
Basics of Enterpreneurship
Professional Foreign Language
Professional Language Culture;
one of the alternatives: Psychology A1 / Sociology A1 / Professional Ethics A1
Mechanical Engineering and Electrical Engineering Study Fields Subjects
Physics; Applied Mathematics, Materials Science; Engineering and Computer Drawing; Environmental and Human Safety
Measurements
Applied Research
Mechanical Engineering Study Fields Subjects
Theoretical Mechanics and Theory of Machines; Hydraulics and Pneumatics; Materials Production Processes, tools and Equipment
Mechanics of Materials; Machine Elements; Computer Aided design (CAD); Computer Aided Engineering (CAE); Computer Numerical Control Machine-tools (CNC)
Vomputerized Production Preparation (CAM); Sustainable Production
Electrical Engineering Study Fields Subjects
Basics of Electrotechnics; Electric Equipment
Automatic Control and Controllers
Automation of Technological Processes
College Established and Optional Subjects
Two optional subjects from a list of subjects approved by order of the director: PD1, PD2
Practices
Cognitive Practice; Electrical Practice
Design Practice; CNC Practice
Production Practice; Final Practice
Integrated Final Project
More
Opportunities for international studies: students of the programme have the opportunity to study according to the ERASMUS student exchange program.
Learning outcomes:
Knows the general patterns of natural science, social sciences, mathematics and engineering and can apply them to create sustainable engineering solutions.
2. Knows the most important concepts of electromechanical engineering, understands their contents and is able to apply this knowledge and understanding to solve problems of electromechanical engineering, applying creatively known methods, experimental and production equipment.
3. Is able to find the necessary professional information and carry out experiments necessary for solving engineering tasks, process their results and present practical conclusions of these results.
4. Is able to work with equipment used in the field of mechanical engineering.
5. Ability to select and apply theoretical and applied engineering knowledge in the formulation and execution of design tasks according to defined requirements.
6. Is able to understand design techniques and apply them.
7. Able to select sustainable engineering solutions and tools and equipment to implement these solutions.
8. Ability to understand the ethical, environmental and commercial circumstances of engineering activities, the impact of engineering decisions on society and the environment, adhere to the norms of professional ethics and engineering, understand responsibility for engineering performance.
9. Is able to understand the principles of engineering activities, knows the basic requirements of work and fire safety.
10. Able to solve engineering tasks by working independently and in a team and interacting with the engineering community.
11. Is able to understand the importance of individual lifelong learning and to prepare for it.