Dental Hygiene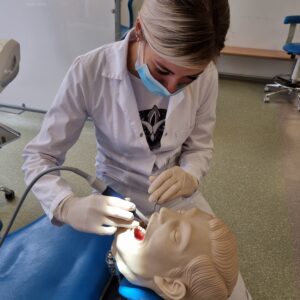 Study mode and duration: full-time (3 years).
Study programme is carried out: Panevėžio kolegija/State Higher Education Institution, Faculty of Biomedical Sciences
Degree and professional qualification: professional bachelor of health sciences; proffessional qualification of dental hygienist.
Volume of study programme in credits: 180 ECTS credits.
Why choose this programme: study programme is to prepare specialists of dental hygienist. Graduates who have acquired dental hygiene qualifications, persons will be able to work in all dental clinics and offices licensed to provide oral hygiene services and will be able to found a private oral hygiene office.
Subjects
Study modules (subjects)*
1 course
2 course
3 course
General modules (subjects) of college studies
Module 1. Bioethics (Professional ethics; Basics of health law and management; Basics of scientific style)
Modules (subjects) of study field
Module 2. Human Anatomy (Anatomy, histology and physiology; Anatomy and Physiology of the Face, Jaws and Mouth)
Module 6. General clinical subjects (Internal diseases and oral pathology; Pharmacology; Basics of biochemistry and immunology)
Oral care for patients with special needs
Module 3. Preclinical subjects (Dental equipment and ergonomics; Microbiology and and infection control)
Module 7. Care of hospitalized patients* (Care of hospitalized patients)
Module 11. Periodontology and oral mucosa diseases
First medical aid
Module 8. Professional dental hygiene
Methodology of applied scientific research
Module 4. Health Education* (Communication and health psychology; Health education)
Module 9. Organisation of work and management* (Organisation of work and management; Health informatics and statistics)
Professional foreign language
Module 5. Epidemiology and prevention of oral diseases
Module 10. Clinical Dentistry (Therapeutic, orthopedic dentistry and orthodonty; Fundamentals of oral surgery; Dental radiology)
Pediatric dentistry and noncariotic dental damages
Specializations / Alternative modules (subjects)
A1 Conflict management / Nutrition and health (Module 4)
A2 Clinical work with patients / Developing oral health enhancing behaviours (Module 10)
A3 Aesthetic dental hygiene procedures / Rehabilitation and physiotherapy in dentistry
Practices
Oral care training (Module 4)
Oral care for hospitalized patients (Module 7)
Procedures performed by dental hygienist**
Dental workplace organization (Module 9)
Electives subjects set by the College
PD1
PD2
Final examination**, Final thesis**
* Practice is integrated into the content of the module
** Final module
PD1, PD2 – optional modules (subjects) foreseen by the order of the Director.
A1, A2, A3 – alternatively chosen modules (subjects) foreseen by the study field programme committee.
* This study plan applies from 2021.
More
Attention to practice: practical skills are being improved by students during practice in a real environment in pre-school educational institutions, personal health care institutions, dental offices and polyclinics. Partners: Panevezys Town Dental Polyclinic, Panevezys Polyclinic, Panevezys Region Municipality Polyclinic, Panevezys Odontologists, in dental offices of Panevezys town family clinics, private dental offices ("Dentavita", "Odenta", "Dentinus", "Gelmidenta", "Dentica", "R.V.L.", "Dentinas", "Dentas", "RA Dental", "Denticus" and etc.)
Opportunities for international studies: students of the programme have the opportunity to study according to the ERASMUS student exchange program.
Career opportunities: graduates may pursue study results if they wish to study at university according to the study programmes of the first cycle. After the bridging courses or having accomplished the requirements of other higher educational institution, students have access to continue studies in the second study cycle with the view to attain master's degree.
The aim of the programme Dental Hygiene – to qualify a dental hygiene professional who is able to provide qualified oral care services independently, assess oral health condition, plan and implement educational and preventive activities in order to avoid oral diseases, perform professional oral hygiene and organize dental workplace.
Learning outcomes:
Students know the national and international health policies, legislation and other documents governing the dental hygienist activities and will be able to provide professional information within their competence in accordance with ethical principles.
They are able to apply the biomedical sciences knowledge in the dental hygienist practice.
They are able to collect, store and analyze statistics data, prepare and present reports of performed activity.
They are able to carry out applied research activities and apply its results for professional development.
They are able to work with dental equipment, instruments and materials and follow infection control requirements.
They are able to assess the person's general and oral health status, disease risk, identify changes in oral tissues, make a dental care plan and fill in professional documentation.
They know dental diseases, causes of their occurrence and factors ensuring health of oral cavity organs and provide professional dental care.
They are able to perform and evaluate dental X-ray.
They are able to recognize life-threatening conditions and provide emergency aid in cases of acute conditions.
They are able to advise patients on dental disease prevention, healthy nutrition, lifestyle, prepare preventive health programs, organize and implement health education.
They are able to communicate and collaborate with health care and other professionals and patients dealing with oral health problems.
They are able to communicate in Lithuanian and foreign language, adapt to new situations and strengthen the image of the profession, takes care of its value and significance in society and ensure the quality of evidence-based oral care practices.
They are able to evaluate critically their professional practice, solve problems independently, make decisions, and understand the importance of lifelong learning.
They are able to use modern technology and information systems in the dental hygienist practice, handle properly confidential information following ethical principles.